Strigon - Folk, Celtic, internationaler Act aus der Slowakei
Strigon ist eine Gruppe von vier Personen die fasziniert sind von Geschichte, Musikinstrumenten und von Musik generell. Ihre Werke sind inspiriert von verschiedenen Völker unterschiedlicher Länder, slavischer Mythologie, von der Welt um ihnen herum und deren Herzen. Die Musik dieser Band wird unterstützt von einer breiten Bandbreite an Instrumenten wie zum Beispiel: Chello, Rebec, Kemence, Flöte, Dudelsack, Drehleier, Bouzouki, Gitarre, Saz, Davul, und mehr. Das Resultat ist ein musikalisches Bekenntnis der Bandmitglieder.
Strigôn is a group of four people fascinated by history, musical instruments and music as such. Our work draws inspiration from folk motives of different countries, Slavic mythology, the world around us and from our own hearts. The sound of the band is supported by a wide range of instruments: cello, rebec, kemence, whistles, bagpipes, hurdy-gurdy, bouzouki, kravic, saz, davul and many more. The result of all this is a sincere musical confession of all the band members.
Aquarius Jazzband
Vor ca. 15 Jahren fanden sich, nach längerer Spielpause, 6 Musiker der Wiener Classic Jazzscene, um zu versuchen ob es wohl gelingt dort weiter zu machen, wo man so gegen Ende der 60er Jahre aus beruflichen, familiären oder sonstigen Gründen aufgehört hat gemeinsam zu musizieren.
Aus diesem Versuch wurde eine erfolgreiche, im klassischem new Orleans und Swing Stil der 20er und 30er Jahre mit großer Spielfreude und instrumentalem Können musizierende Band, die es sich zur Aufgabe gemacht hat, traditionellen Jazz durchaus neu und zeitgemäß zu interpretieren.
Besetzung: Horst-Dieter Bietak (Kornett), Hans Oslansky (Posaune), Herbert Motalik (Klarinette), Ernst Romankiewicz (Piano), Peter Schwanzer (Banjo, Gitarre), Günther Dinold (Bass), Wolfgang Hiebl (Schlagzeug)
Furax - diebisch gut! Geige, Dudelsack und mehr
Furax ist eine Mittelalterfolk/Rock - Band aus Wien (Österreich), von "Alkuin die Pfeifenassel" 2007 gegründet, die hauptsächlich altes Liedgut neu, auf rockiger Basis interpretiert, aber auch eigene Songs komponiert.
Nach kurzer Pause, wurde "Furax" 2018 mit neuen Musikern wiederbelebt.
Sie spielen auf Mittelaltermärkten (Marktmusik), Festivals und Festen aller Art. Auf Mittelaltermärkten hauptsächlich als Trio (Gesang/Percusion/Davul - Dudelsack/Rauschpfeife/Flöten - Geige/Flöten/Laute/Gesang)
SAM CHALCRAFT
Sam Chalcraft is a Cornish born musician from the mysterious depths of southern England. In February 2015 he released his first self-titled EP and simultaneously kicked off his touring ambitions; having moved to mainland Europe a year prior. He blends his Punk Rock roots with singer-songwriter delicacies, reinforced by a powerful and occasional soft voice which lends itself to the ardent investment in both his songwriting and live performance. His second record is set for release in spring of 2017.
Sam Chalcraft, geboren in Cornwall, ist ein Musiker aus den Tiefen Südenglands. Im Februar 2015 veröffentlichte er seine erste EP mit dem einfachen Titel "Jack Roots" und ging damit auf Tour, nachdem er ein Jahr zuvor auf das europäische Festland zog. Er vereint seine Punkrock-Wurzeln mit den Vorzügen einfacher Folkmusik und verstärkt das Ganze mit seiner kräftigen Stimme und dem Einsatz von gefühlvollem Gesang, die an den richtigen Stellen sein Songwriting und die energiegeladene Liveshow perfekt untermalen.
Harmonie-Gesang, Rhythmischer Blues, Jive, Boogie, Country, Hill & Rockabilly
Die "50´s Diner Band" wurde im Herbst 2013 gegründet und ist Österreichs neueste Nachwuchsband auf dem Rockabilly- und Tanzmusiksektor. Die Band besteht aus 5 Mann und einer Frau.
Die von 50´s Diner dargebotene Musik ist ein Konglomerat aus Rock´n´Roll, Honky-Tonk-Musik, Hillbilly, Rock-A-Billy, 50´s Pop, Rhythm´n´Blues und sogar Swing Jazz. Ihre Vorbilder sind Elvis Presley, Johnny Burnette, Bill Haley, Paul Anka, Louis Prima, Brook Benton, Big Joe Turner und viele andere stilprägende Künstler aus der unmittelbaren Nachkriegszeit.
Die Musiker der "50´s Diner"-Band bestechen durch größte Authentizität und einer exzessiven, dynamischen, manchmal auch "verrückten" Bühnen-Show. Sie legen besonderes Augenmerk auf ihr optisches Auftreten im "RETRO-LOOK": In eleganter Garderobe - wie etwa dunkle Anzüge mit dem einschlägigen Mode-Schnitt der 50er Jahre, Gehröcke aus der "Teddy-Boy"-Szene sowie die typisch zugespitzten "Milano"-Schuhen - machen sie zu einem würdigen, optischen Erlebnis und fesseln das Publikum.
www.50sDiner.at
Songs for Six Strings Vol. 2
An Anthology of Traditional and Contemporary Folk Music
Walter is pleased to present his third program at The Golden Harp Irish Pub:
Songs for Six Strings Vol. 2 - An Anthology of Traditional and Contemporary Folk Music - Songs that have influenced his playing and accompanied him since he first picked up a guitar.
Wednesday, December 4th, 8pm, Admission from 7pm, Admission – free donation
Walter freut sich, sein drittes Programm im Golden Harp Irish Pub präsentieren zu dürfen:
Songs for Six Strings Vol. 2 - An Anthology of Contemporary Folk Music, Lieder, die ihn geprägt haben und begleitet, seit er Gitarre spielt.
Mittwoch, 4. Dezember, 20:00 Uhr, Einlass ab 19:00 Uhr, Eintritt – freie Spende
Sean McBride is a musician from Co. Fermanagh in Ireland playing modern pop songs, classics from the 60's, 70's and 80's along with Rock, Indie and Irish music. I use a loop pedal to create a fuller sound and provide a full band experience from a one man band.
Sean McBride ist ein Musiker aus Co. Fermanagh in Irland, der moderne Popsongs, Klassiker aus den 60ern, 70ern und 80ern sowie Rock, Indie und irische Musik spielt. Er benutzt ein Loop-Pedal, um einen volleren Sound zu erzeugen und eine vollständige Banderfahrung von einer Ein-Mann-Band zu liefern.
Gary Howard was born in East London, in an area called Ilford. From early in his life, Gary had two loves: drama and music.
Gary explains, "I went to college where I was did a performing arts degree, and my main study was drama. Because I could sing and play a guitar already, I was often given the role of the singer/guitarist, so the music and the drama progressed side by side."
Early in his career Gary travelled around playing guitar and singing. He also did some acting singing and Television work while living in Paris, and Rome. In the eighties, Gary Howard returned to the UK, and while doing cabaret and New Variety shows, and making music for the BBC, he was spotted by Rick Lloyd of The Flying Pickets. Gary explains, "Several of the guys were working in theatre and it was like an informal group, and more for fun. There were different people in it and it was only when we had the first hit that it crystallized as a group. I joined in 1986. I became a Flying Picket, as well as continuing with cabaret and BBC work. Gradually the Picket life took over because we were always touring all over the place."
When it comes to the genre of "acapella", The Flying Pickets are one of the top groups in the field. We appeared on albums by other artists including Tracey Ullman's album "You Broke My Heart in 17 Places", and the Alan Parsons' produced "Freudiana", with 2 tracks especially featuring Gary's Voice.
When the first Alan Parsons tour came along in 1994, Gary would share the lead vocals duties with Chris Thompson of the Manfred Mann Earth band, for a tour of Hilland Belgium and Germany, playing in Stadiums with the sound Engineer of Pink Floyd. Those performances were immortalised on
"the very Best of Live". Gary has worked with Andy Woerz of Die Echten and Andre Heller on respective Album Projects. Gary is well known around the globe as the Voice of the Hit Song "ONLY YOU". He now has his own band and performs on stages around Europe and beyond and is hard at work song writing and producing most of the year in Studios in Paris and London.
Gary Howard often visits Vienna for recording projects as well as Charity Commitments and - of course to - experience the "Wiener Gemuetlicheit"!
STUART NEVILLE is a Scottish singer and songwriter based in Vienna, Austria. A smokey baritone and a down-tuned dreadnought.

An engaging and visceral live-performer, gigging solo on the road and round the corner, on stages and on soapboxes for the last ten years.
Honest songwriting that gains complexity through emotion and dynamism, fuelled by the raw indie and grunge of his youth and welded together with the stories and peoples of his life.
Stuart is also the frontman of indie-rock band 'JUDO PUSH' who released their debut album 'FOR THE NORTH' in 2014 and composed the soundtrack for CINÉMA HUMAINE documentary film 'HORN' in the same year. Stuart has also just finished recording with MIKE STARK for his debut solo EP 'BRIGHT-EYED YOUNG THINGS' to be officially released March 2016.

Thorncreek Village Ramblers - All Time Country Music
Alle unsere Musiker sind seit vielen Jahren in den verschiedensten Musikrichtungen aktiv
(Rock, Blues Jazz, Klassik …).
Eines allerdings haben wir gemeinsam – die Liebe zur Countrymusik. Ob bei Großveranstaltungen wie Donauinselfest, Praterfest oder anderen Open Air Auftritten, Indoor Events wie Indian Dream Saloon, No name city, Babenberger Halle, Eisring Süd, Manhattan Fitnessclub, Hooters, diversen Schutzhäusern bis hin zu kleinen
Country- und Linedanceclubs wie Best Wild West, Vienna Headquarters etc. überall geben wir alles.
Eintritt freiwillige Spende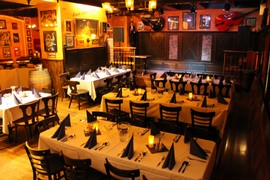 Ihre Feier bzw. Veranstaltung im Golden Harp
In einem außergewöhnlichem Ambiente bieten wir Ihnen Alles,
was Sie dazu
benötigen.
Bis zu 80 Plätze stehen in unserem separierten und mietfreien
Kult Club im Golden Harp zur Verfügung.
Sprechen Sie uns an: Tel. 01/7151393
oder über 1030@goldenharp.at